image captionThe last review, which was three weeks ago, saw Portugal removed from the green list
Changes to the UK's rules on foreign travel are set to be announced later, after industry bosses united in a plea for the green list to be widened.
There has been speculation Malta and the Spanish islands of Ibiza, Majorca and Minorca could be green listed.
Travel bosses are also calling for an exemption to quarantine for fully-vaccinated people from amber countries.
PM Boris Johnson said there was a "real opportunity to open up travel" this summer for those who have had two jabs.
But the prospect of European holidays could face another hurdle, after German Chancellor Angela Merkel suggested all EU countries should make British travellers quarantine on arrival to slow the spread of the Delta variant.
She told Germany's parliament: "In our country, if you come from Great Britain, you have to go into quarantine – and that's not the case in every European country, and that's what I would like to see."
By contrast, when returning to the UK from most holiday hotspots on the amber list, travellers have to self-isolate for 10 days, as well as pay for tests.
Asked about Mrs Merkel's remarks on the Delta variant meaning more restrictions on British travellers going abroad, Mr Johnson said: "The most important thing is that we think double jabs do offer a good way forward, we think they offer the hope of travel this summer.
"More than 60% of our population have now had two jabs, I think 83% have had one jab, we're really getting through it now. The crucial thing is, come forward and get your second jab," he said.
He added that he wasn't going to claim the summer would be like any other. "I don't want to cast a pall over things but, as I said the other day, it will be different."
'It's safer here than at home'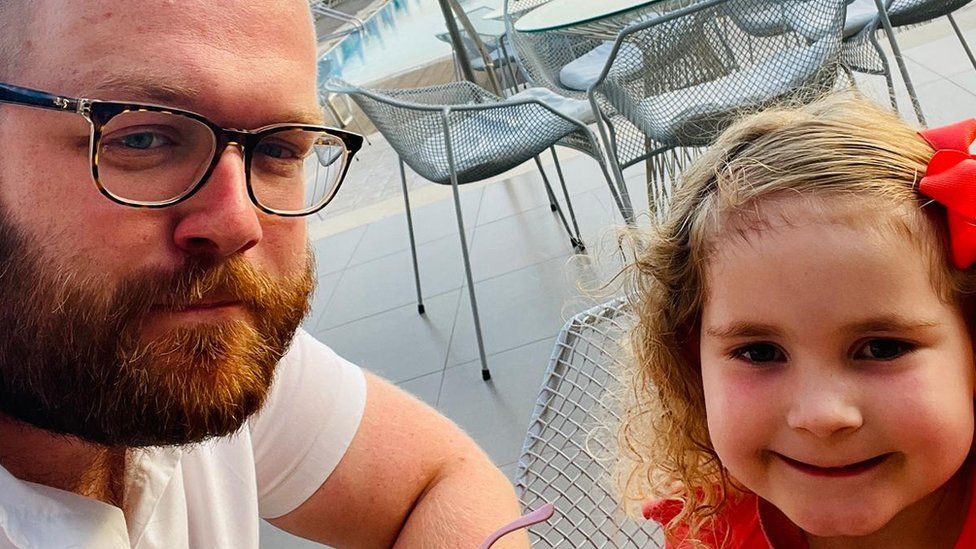 Tom Singleton, from Derby, is on a family holiday with his wife and four-year-old daughter on the very quiet Greek island of Kos.
They had originally planned to go to Cyprus but had to cancel three times.
Determined to get away before their daughter starts school in September, the family flew to Kos – on the amber list – on a virtually empty plane to stay in a deserted hotel.
"Until yesterday we were the only British people in our hotel," he told the BBC.
Tom and his wife are both fully-vaccinated and hopeful – if a little doubtful – Kos might be moved on to the safer green list which would save them from quarantining.
"Cases are very minimal here and it's safer here than at home – it makes no sense why it can't be green," he said.
He highlighted some of the apparent contradictions in the travel rules, asking how Uefa VIPs, sponsors, staff and guests could come into the UK "from wherever" without quarantining.
"It begs the question why one rule for the few and another for everyone else."